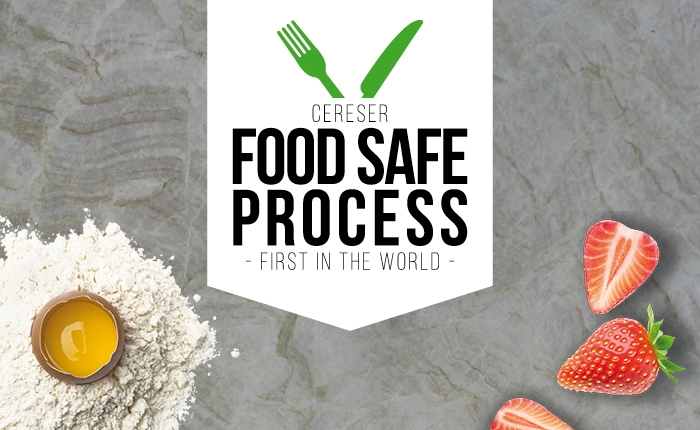 CERESER PRESENTS
CERESER FOOD SAFE PROCESS
FIRST IN THE WORLD
- UNIQUE IN THE WORLD -
CERESER FOOD SAFE PROGRAM is a unique protocol in the world that guarantees unique levels of performance, safety and quality on all materials processed in Italy by CERESER.

- FOOD SAFE CER-TIFIED RESINS -
The CERESER chain has been completely renewed with the introduction of the FOOD SAFE certified epoxy system, specially developed by TENAX for CERESER, in compliance with the very strict European regulations.
- NO BACT CER-TIFIED RESINS -
The exclusive resins used by CERESER, for the enhancement of natural stone, are characterized by a specific antibacterial certification, a guarantee of complete sanitization.
- MICROWAVE RESIN CURING LINE -
LThe use of the new CERESER resins is enhanced by Breton's first in the world resining system to use microwave technology: a further guarantee of performance, safety and quality made in Italy.
Download the Flyer CERESER FOOD SAFE PROCESS
Back to news list